Discussion Starter
·
#1
·
My fellow riders.
It has been a total of two weeks worth of on and off training in parking lots for Charles, learning the absolute basics. Well, he finally got his permit a couple days ago, and today, he used it to finally leave the safety of that confined space.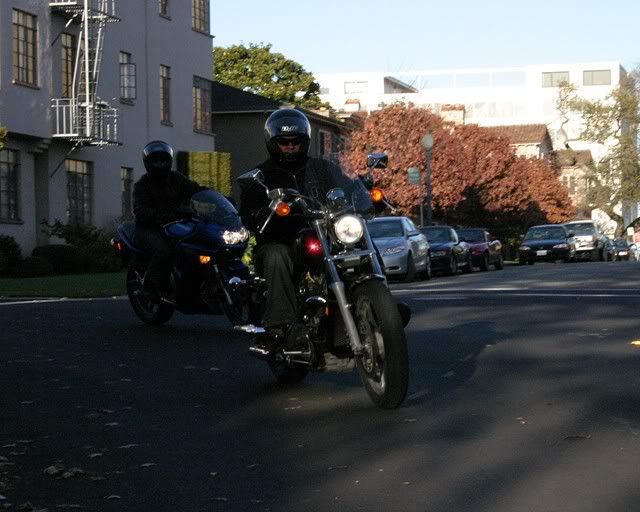 It was an incredible sight as I rode on his wing, watching him track along the relative safety of a neighborhood road. My choice was a good two-mile straightaway with five stop signs along the length. I kept close on his heels, running interference when necessary, motioning traffic by at the intersections, and offering tips whenever we stopped at the end of the each run. I made it as easy as possible on him, so that he could focus solely on doing what was required.
I could tell he was nervous as hell throughout the session, but still, he did extremely well. Nothing dropped, nothing was dinged. For now, that's more than enough. 8)
Watching him explore this new realm brought back a lot of momories, when I took my shiny new Vulcan 500 down that same street for the first time. I could actually feel what must've been going on in his head - the apprehension and fear of something so far back in his life that it's virtually brand new. I let him set the pace, urging on only when absolutely necessary (ie - holding up traffic). Silently, I cheered him as he up'd the speed a touch more or leaned a little more at the next turnaround. Garnering confidence is so important at this early stage.
Sorry for the lengthy and melodramatic-tone of the related story, but I am so proud of what he did today.
My bud's riding!!!
:biggrin: