Discussion Starter
·
#1
·
After getting aftermarket pipes on my bike and ditching the stock goat bag, I knew the next thing I needed to do was do something about that ugly rectifier. I could spend $100 on a chrome cover for it and add some more chrome to my bike, but I saw some pictures, and I thought it still looked out of place.
My other option is to spend ~$30-$40 for one of those rectifier relocation kits I've seen on ebay. Sounded like a better deal, and it would hide it altogether, but its still money I'm spending just to move something out of the way.
Then I saw Gadget's site and he had the idea to just move the rectifier to under the radiator. The directions for that mod were extremely vague, had no pictures, and weren't even for my bike, so I figured why not just try to figure it out myself.
I will tell you, this is an EXTREMELY simple thing to do and only cost me 62 cents cause I had to run to the hardware store and buy a new carraige bolt and nut because I didnt have any that would work lying around the garage. If you have a nice assortment of spare nuts and bolts lying around, you could probably find something that works and make this mod absolutely free.
Not including the time it took me to run to the hardware store, this mod took me about 45 minutes, and that included taking pictures.
So I know you're all like, come on, Mike, get to it!! Well here we go:
Step 1:
First thing you need to do is unbolt some stuff. Heres a pic of everything you need to remove. I have arrows pointing to everything and theyre color coded depending on what they are.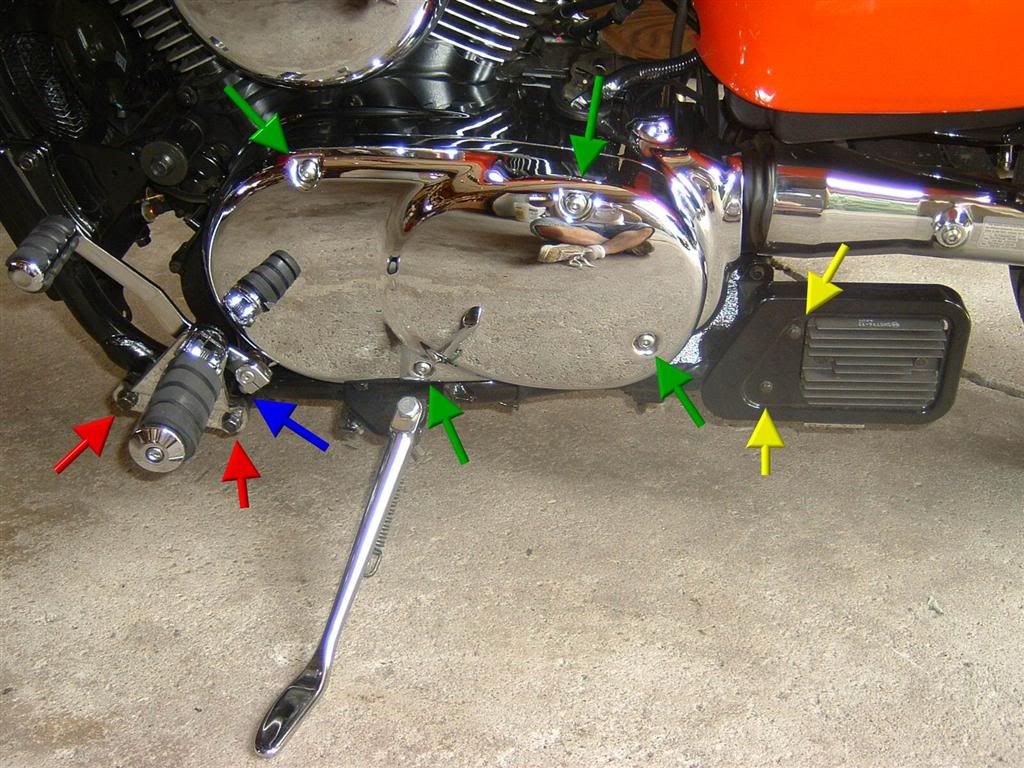 The two
red
arrows point to two 14mm bolts holding the left footpeg mount to the bike. Remove with your favorite wrench/socket combo.
The
blue
arrow points to the 10mm bolt holding the shift peg on. Remove it.
The four
green
arrows point to the 4 allen bolts that hold the side engine cover on. I don't remember what size these are, but just find something that fits and remove it. If you've never taken this off before, don't worry, theres no oil or anything that will fall out from behind this. Also, there are rubber grommets that make creaking noises when you unscrew these, so dont panic when you hear a weird sound. Just take it all off.
Lastly, the two
yellow
arrows point to the two 8mm bolts holding the rectifier cover to the rectifier mount. Once again, just remove.
Step 2:
Next, you'll need to remove more stuff from under the rectifier cover. Remove the two bolts indicated by
red
arrows first. You can remove the
blue
bolts first, but then you might have a difficult getting the other ones off since you won't have any leverage anymore.
Once you get these 4 bolts out, the rectifier will be hanging loose. Take the rectifier cover and mounting bracket and all nuts you removed and either throw them away, or put them somewhere in case you ever want to undo this mod. Here is what your bike should look like with everything removed. Notice my rectifier is just hanging loose.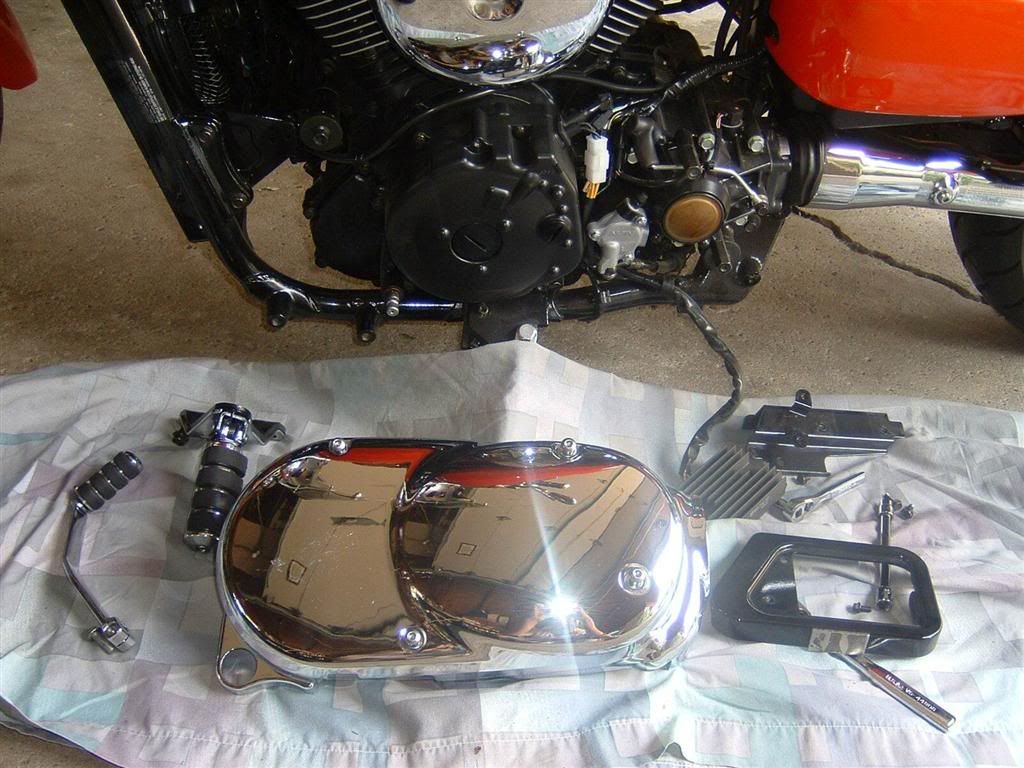 Step 3:
You'll want to disconnect the two wiring harnesses, indicated by
green
arrows, going to the rectifier because it makes remounting it easier. These are just two quick release clips. Look at them and you'll see a finger on each one you need to press in to separate both ends. There is no cutting of wires necessary for this mod.
Step 4:
Gadget's walkthrough says to mount the rectifier on the frame next to the "other" one. Whatever bike he was referring to must have had two rectifiers, cause if mine does, I couldn't find it. I also couldnt find the pre-tapped holes on the frame he mentions. I looked around by the radiator and found two tabs that weren't being used for anything that I figured I could mount my rectifier to.
At this point, I needed to find a bolt that would fit, and I went with a 20mm M6 carraige bolt and nut that I could use to mount the rectifier. I noticed when I mounted the rectifier in this location and tightened it down, the wiring harness was being squished into the underside of the radiator, and I was afraid that with vibration from riding, it might damage the wires, so I found a washer I had lying around and put it between the tab on the frame and the rectifier itself to push it away from the radiator. This worked perfectly as I was able to tighten everything down without anything getting pinched. Here's two pictures of what it looks like mounted in my bike. On a side note, I couldnt believe my bike was that dirty until I looked at these pix. Looks like I need to give it a bath!!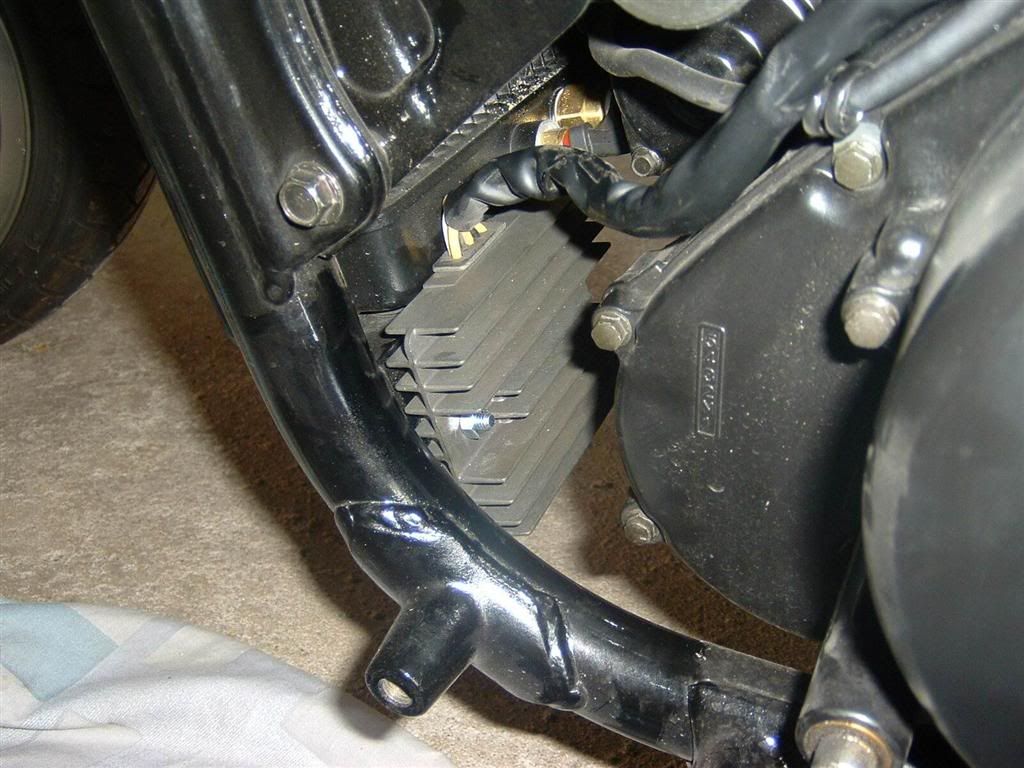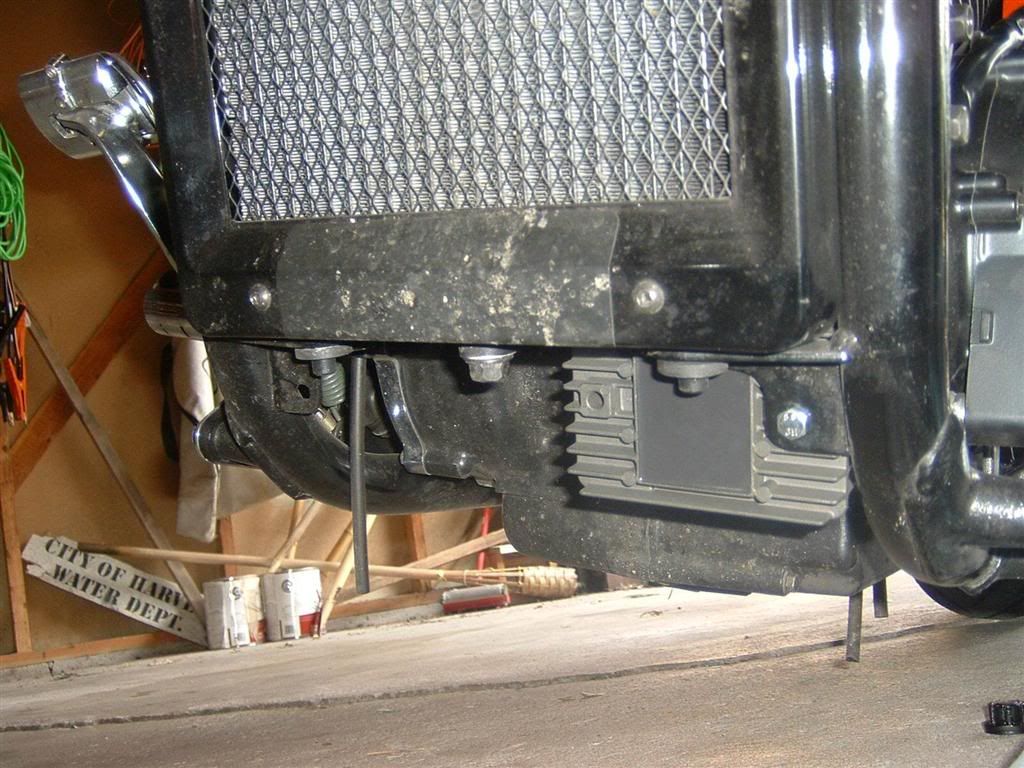 Step 5:
From this point, the only thing left is to just put everything back together. I routed the wiring harnesses back to the clips and reconnected them. I also used a zip tie to hold down the wires to a cable that was already there. Heres what it should look like after reconnecting everything.
Remember when you mount the shift peg back on, to match up the dots or else your shift lever won't be in the same position it was before removing it.
Also, there are probably torque specs for all this stuff, but I didn't have any of them. I'm usually pretty good about feeling how tight I should make things. Basically don't use gorilla strength on anything or else you could damage the threads. After mounting stuff, recheck everything a couple days later to make sure nothing has come loose.
Heres a pic of everything back together. Looks a lot nicer I must say!