Discussion Starter
·
#1
·
Last year I went to the Darkside and put a Car Tire on my 900LT. While I didn't have any problems with the swap I did have one dis-appointment. I was running a tube in my tire so if I got a puncture I would have to pull the tire and patch or swap the tube OR hope that I could limp in with the little Slime compressor I pack along with me. I've had to do that with my front tire and it's a PAIN and just a tad nerve rattling having a tire with a nail in it.
So remembering that FLVulcan was selling the OEM rim from his Custom last year I contacted him earlier this year and found out he DID still have the rim. Well it didn't take long for it to show up at my house. And with the exception of the blanket that he wrapped it in for shipping, it's been sitting in my garage for most of the year. The blanket I caught one of my dogs heading out the door with just after I unpacked it so I washed it to get any grease off of it, folded it and set it on their doggy bed. So my DOGS are quite happy with that part of the deal.
Longevity? I've got 18,500 miles on the General Altimax 195/65-15 HP tire that I put on last year. It's not worn out but it's close. I probably have another couple thousand that I could put on the tire but I knew I was putting a trailer hitch on and I figured why not do it all at once. It also gives me a wheel that I can load to a local biker that is due a rear replacement and is short on funds. He can see how it handles without making any more commitment than riding over to my house and doing much of the work to swap it around. Once again, a picture of my bike and the parts, and my bike on the Sears jack which makes it really convenient to move around in the garage.
Now because I was installing the
Hitch
I had to take the fender off. Not really much work to do though because I have an LT you have to take the bags off (I have Ghost Brackets), the Luggage Rack(CWI aftermarket) and the Sissybar and supports then the fender. You get a neat O view of the tire and kind of an idea of what a bobber might look like, hmmmmm. Probably just ticked someone off because evidently there are clear and hardcut rules to what determines what a bobber is. We'll not debate that, just look at the pics.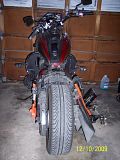 Now I hadn't mentioned it before but instead of doing it all myself this time I took it to my dealer. WHY?? Well my dealer had done one other tire and it kinda slipped out. They were a little worried about it. All that crash and burn stuff. So I showed up with the 18,000 miles of no crashin and burning and convinced them to use my tire as a second test for them and they agreed. So it cost me 50 bucks and tax to help blaze the way. They couldn't balance the tire for me. They found out about midyear that because the 900 Custom tire is basically a solid rim, there wasn't any place for their balancer to reach through and grab the tire. They have a guy building them an attachment but quite frankly they had forgot about it and my coming in reminded them. If he got the bracket fabricated they would have balanced my tire for free while trying it out. As I had other things coming in the mail I told them that it depends on which got here first. My Dynabeads, Hitch and oil seal or there attachment. I won.
So I brought the wheel home, put the oil seal on that was missing and installed the DynaBeads. Side note here. I have heard and witnessed DynaBeads sticking in the valve stem when you pour them in too fast. But having done this several times and hearing of ALL kinds of methods to clear the blockage, let me tell you how to do it. They give you a little bottle and a clear piece of tubing to install the beads with. Put the tubing on the valve stem, push the bottle firmly onto the tubing and pour the beads slowly into the tire. When a blockage occurs, and it will, tip the bottom of the bottle down and squeeze and release the bottle pumping and sucking air from the tire into the hose. The beads will just jump right down the valve stem. It takes a couple minutes to add 3 ounces of beads for the large tire.
Picture of the old and new wheels before the swap.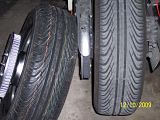 And a side by side of the old busted and the new hotness.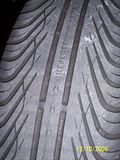 Now as another side. I had heard horror stories about the aftermarket Scootworks pulley coming loose and eating out the output shaft. I have heard horror stories about how I'm going to overload the motor, cause millions of dollars of damage and be the soul cause of global warming. It's all whooie but I was wondering if I had torqued the pulley nut down 2 years ago in October when I put the thing on. With the bike up on the lift and a comfortable seat and the rear tire off so the belt was loose anyways, I figured why not check. As I'm going to a trailer and I heard about how much better the bike would be without the pulley I went ahead and put the old OEM pulley back on. Took an extra half hour? Would have been quicker but I had to put the new wheel on and pull it back and put the brake back on so I could use the brake to hold everything still while I torqued the nut off. 2 foot breakover bar and the nut comes right off for a monkey man like myself. Of course when I went to put the brakes on I noticed that the pads had about 2 pieces of papers thickness of pad left. Oh, THAT where that squeak was coming from. I had new pads hangin on the wall waiting for this moment so on they went too.
So, put it all back together and I have a new tire, new brakes old OEM output pulley and a trailer hitch on my bike. Not bad for a weekends work. Pics while it's nekked.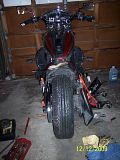 And one up under the fender that I just think looks cool
Now I rode it to work yesterday to make sure I didn't have any clearance problems and I was going to ride it today, but it was just COLD this morning. I had boxes and bottled water to bring in this morning AND I wussed out. With everything shipped off I'll ride it more tomorrow. I started this wheel at 34 psi instead of the 40 thats recomended to newcomers to the darkside. 32-34 feels good on a broken in tire and I spent FAR too much time at 40 psi last time. I liked how it felt and didn't really think about it till I noticed the center was really worn while the outsides still look new. I think I can get even more mileage out of the new tire. As is I got about 3 tires worth of wear out of this one as is. Not bad for a 75 dollar tire that has better traction and feels the same or better than the Metzler I took off.
Now with the OEM Custom rear wheel on the bike I am tubeless and can put a plug kit in the bike so that if I get something in the center I can just plug and go, patch it when I get in to a shop.
Life, is sweet.