·
frequently disturbs class
Discussion Starter
·
#1
·
Ok. so not my ride, but saw this on the way home yesterday and had to stop. This is a prototype that the owner hopes to start selling in kit form someday. The motor & running gear are from a ford ranger mini truck. The owner fabbed it all in his shop after laying the thing out in CAD. His inspiration was, according to him, more tractor than chopper, and the thing is designed to pull serious weight up all grades on all surfaces. After seeing it rip down the highway and some gravel road as well, I can tell you it works!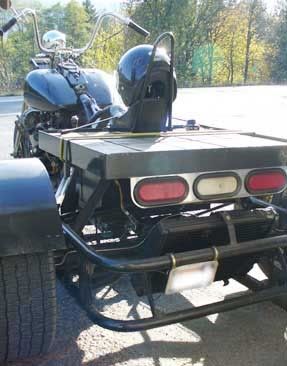 After talking a bit, he invited me to his shop to see his latest-
a flatbed diesel trike/tractor
based on Mercedes power and gear. This one is still in the fit-up stage, but is looking pretty cool... Note that while the seat looks harsh, I sat on it and it was pretty comfy. I also really like the jockey-shifter made from a tire iron, and the diamond-plate tank bib.
I hope all you fabheads like this.
I love to see work in progress. It gives so much insight into the design concept. This thing looks raw at this stage, but the simplicity of the frame design and the degree of adaptability for various power plants is a thing of beauty. Plus, I have a special place in my heart for DIY cats that just gotta build something different.